The X-Ray of Local Public Sector Financing in 2022 – over lei 4.7 billion (approx. EUR 965 million) for 110 Administrative-Territorial Units
Bucharest Municipality and Districts 4 and 5 of the capital city are top 3 in the ranking of approvals' value in 2022
Districts 3 and 6 of the capital city, Cluj-Napoca, Iasi, Arad, Arges County Council and Sibiu County Council make up for the remaining ranks
Transportation, housing and education stand for the top investments for the local public sector, amounting to lei 19.5 billion
Bucharest, 19th August 2023 – TUD Group, one of the largest groups of local independent companies in financial advisory, IT solutions and technical advisory, presents a new report on the status of local public sector financing  in 2022, carried out by means of the application TUD's Analytics.
As per said report, of the 3,228 administrative-territorial units at national level, 110 received last year a total of 142 approvals from the Local Loans Authorization Commission (LLAC), amounting to a total of lei 4.7 billion. So, 57 communes, 18 cities, 19 municipalities, 11 counties and 5 districts received approvals for accessing financing.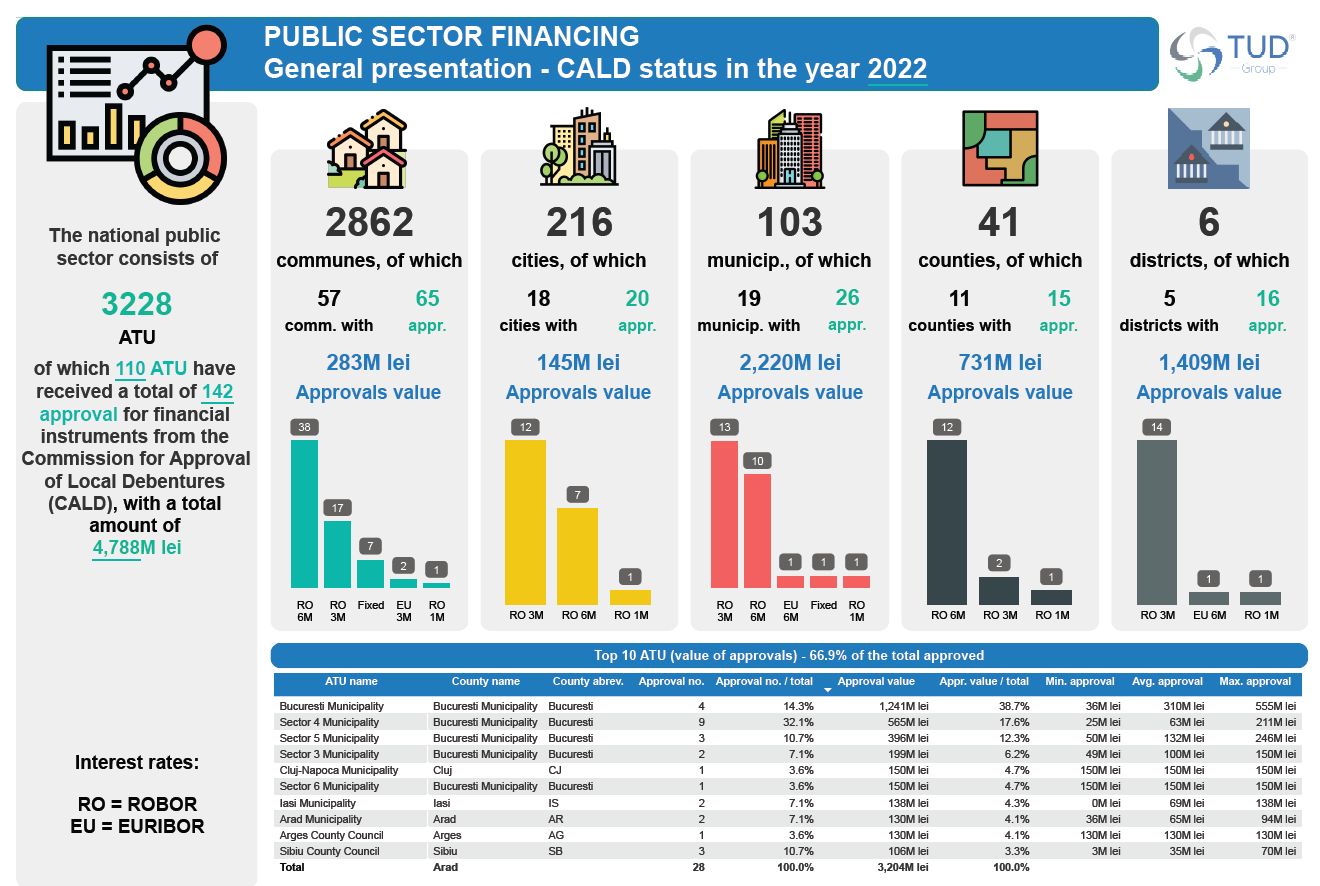 Top 10 administrative units by value of approvals  
In 2022, Bucharest Municipality received four approvals amounting to lei 1.2 billion  (approx. EUR 250 million) and ranks first in top 10 administrative units by value of approvals. The top continues with Districts 4, 5, followed by 3 and 6 – with a cumulated value of lei 1.3 billion (approx. EUR 264million), subsequently with the Municipalities of Cluj-Napoca (lei 150 million), Iasi (lei 138 million), Arad (lei 130 million) and the county councils – Arges County Council (lei 130 million) and Sibiu County Council (lei 106 million).

Transportation, Housing and Education stand for Top 3 Investments
Out of the expenditures recorded in 2022, 30.9% – respectively lei 27,329 million – were investment expenditures. Major funding destinations of local public investment projects include transportation (lei 11,125 million), housing (lei 5,129 million), education (lei 3,255 million), culture (lei 1,812 million) and environmental protection (lei 1,799 million). These are followed by investments for authorities, healthcare, social assistance or energy.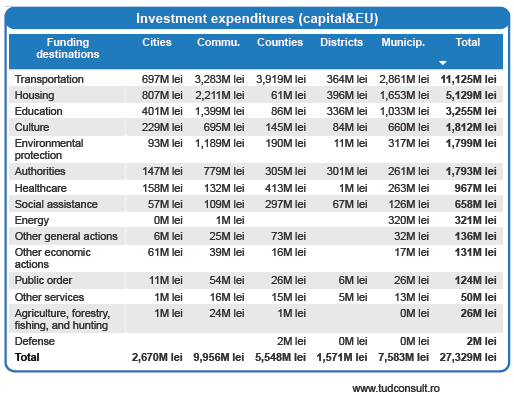 Increase in Terms of Revenues by 13% and of Expenses by 15% against 2021
As far as the revenues and the expenditure recorded last year, at the level of the 3,228 administrative-territorial units (ATUs), a significant increase in both cases is noticeable. Thus, in 2022, by comparison with the previous year, the total revenues amounted to lei 90,050 million, with an increase by 13%, whereas expenditure reached the amount of lei 88,556, with an increase by 15%.
The report launched by TUD Group points out the fact that, out of the lei 90,050 million which stood for revenues last year, the municipalities collected a total of lei 30,715 million, the communes a total of lei 26,664 million, the districts a total of lei 8,067, the counties a total of lei 16,930 and the cities a total of lei 7,673. At the same time, own revenues stood for 53.2% of the total, with municipalities contributing by 70.1%, communes by 41.6%, counties by 27.9%, districts by 82.3% and cities by 51.8%.
As far as expenditures are concerned, of the total of lei 88,556 million, the municipalities spent the amount of lei 30,781, the communes the amount of lei 26,673million, the counties lei 15,997million, the districts lei 7,571 and the cities spent the amount of lei 7,534million.

Financial Indicators – Budget of Loans in 2022
Under the budget of loans, disbursements amounting to lei 4,434 million were recorded, whereas the payments made amounted to lei 4,168 million.  Should we not consider the lei 500 million loan Bucharest Municipality secured for paying the heating subsidy, in 2022, the local investment budgets were increased by lei 3,668 million. Using these funds, the local public authorities thus increased the investment level by 13%. In terms of distribution of payments by funding destination, one can notice that the transportation system recorded the highest amount, namely, lei 1,449 million, followed by housing, amounting to lei 661 million.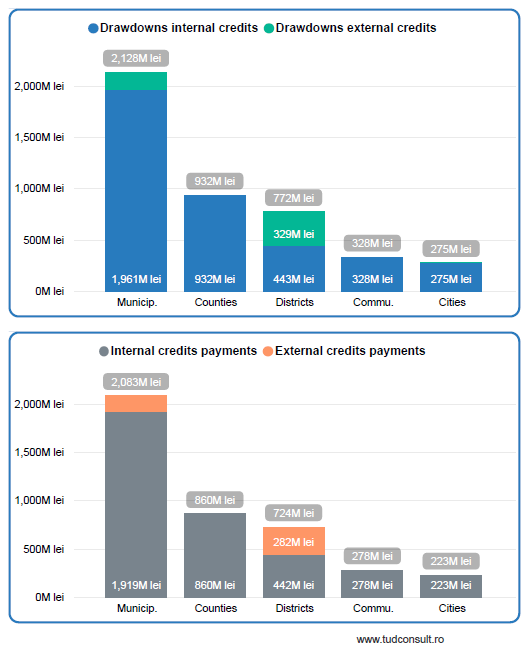 The new report was generated using TUD's Analytics – a financial solution granting access to a centralized database on collections and payments of administrative-territorial units (ATUs), developed by TUD Group.  This solution provides instant data on 3,228 ATUs, which stand for a significant sample of the public sector, including all the counties, municipalities and cities in Romania.
About TUD Group
TUD Group is one of the largest groups of local independent companies in Romania, which provides a comprehensive and complex range of financial advisory, IT solutions and specialized technical advisory services.
In its 16 years of existence, TUD Group has worked together with both local public authorities and private companies which set out to develop ambitious projects, thus enabling positive changes. TUD Group's portfolio includes partnerships developed with over 15 banking institutions (both local and international) and over 20 local public authorities or private entities. Throughout the years, the group has drawn financing amounting to lei 5.5 billion from the local market and has contributed to the implementation of projects worth over EUR 1.3 billion, with financing from the international financial institutions such as the European Investment Bank, the European Bank for Reconstruction and Development, the Council of Europe Development Bank.
18/08/2023
| IN BUSINESS